Infertility Treatment or anything related to Gynecology & Obstetrics - Nurture - Advance Fertility Center is with you every step of the way.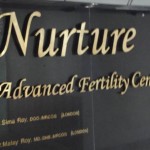 As patients embark on fertility treatment it is often with some trepidation of what lies ahead. This treatment pathway should help to address some of the concerns patients may have. However, it is important to remember that not everyone follows the same pathway as we tailor treatment to individual requirements.
Nurture Advanced Fertility Clinic is directed by Dr.Sima Roy MBBS (Cal), DGO, (Cal) MRCOG (London) who is a Consultant Gynecologist & Obstetrician, Specialist in Infertility and a Member of ASRM (American Society of Reproductive Medicine)
Nurture also has a dedicated Minimal Access Surgeon Dr.Malay Roy MD (Cal), DNB, (Cal) MRCOG (London), who is Consultant Gynecologist & Obstetrician, Gynecologcal Oncologist & Minimal Access Surgeon
If you have any questions or concerns please feel free to contact us for further advice.